Do you offer a warranty?
We have a 30 day warranty on our labor. Parts are under the manufacturers warranty.
Do you offer onsite repairs?
Yes. We offer a onsite or in home service for repair. Extra charges may apply.
Do you only repair laptops?
We offer laptop and desktop computer repairs. Software installation, setup and configuration of antivirus, data recovery, virus scaning, etc.
Do you recycle old computers and their parts?
Yes. Please feel free to bring your old electronic in so they will be recycled properly.
What are your office hours?
We are open from: Monday to Friday from 9am to 6pm, CLOSED Saturday and Sunday.
What forms of payment do you accept?
We accept Cash, Check, Visa, MasterCard and PayPal
What if I live out of the San Diego region?
Feel free to ship us your laptop. There will be a small charge for return shipping. Our shipping address is: 4645 Cass St. suite 201a, San Diego, CA 92109
What is your turnaround time?
We offer same day or next day turnaround for most repairs. If parts need to be order shipping time will apply.
Service Hours
Pacific Beach
Monday – Friday 9:00 am – 6:00 pm
Saturday CLOSED
Sunday CLOSED
Normal Heights
Monday – Friday 9:00 am – 6:00 pm
Saturday CLOSED
Sunday  CLOSED
About us
SD Laptops offers fast, competitive and professional computer repair services in San Diego. Hundreds of satisfied customers agree.
E-Waste Recycling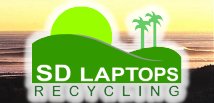 Proud sponsor of: