SD Laptops is San Diego's best full service laptop and desktop repair company. We specialize in residential and small business computer repair. Southern California's best kept secret in the repair business. We work on PC and MAC.
Our services include system security and online privacy solutions, hardware and software repairs and troubleshooting, wireless equipment and network installations, spyware and virus prevention and removal, data backups and transfers, and other forms of on-site computer support that meet today's increasing demand.
Affordable
Residential
Small Business
Professional
Personal Service
Prompt
Free estimates with 24 hour response time
Service Hours
Monday – Friday
9:00 am – 6:00 pm
Saturday
10:00 am – 3:00 pm
Sunday
CLOSED
iPhone5 cracked glass repair
iPhone 5 & iPhone 5s cracked glass repair.
About us
SD Laptops offers fast, competitive and professional computer repair services in San Diego. Hundreds of satisfied customers agree.
E-Waste Recycling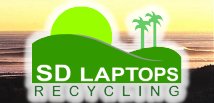 Proud sponsor of: