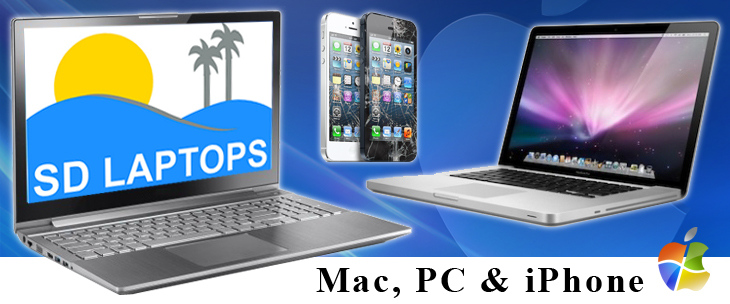 Affordable Laptop, Notebook & Desktop Repair Services
Our goal at SD Laptops is to provide affordable, technical services capable of restoring your laptop/notebook PC – MAC or desktop computer back to its original working state. For most repairs, we offer a flat labor rate of $99. Our FREE diagnostics will also provide you with a fast and accurate assessment of the work required to repair your laptop, notebook or desktop computer. Before any charges are applied or further work performed, we'll contact you, the customer, with the diagnostic results and the cost of parts and labor should you proceed. This will enable you to decide whether or not you would like to move forward with the repairs.
About SD Laptops and the repair services we offer
The highly-trained technicians at SD Laptops have many years of experience with all laptop, notebook, MacBook and desktop computer repairs. We pride our company on honesty and the good relationships forged through customer satisfaction. We service all makes and models of Apple/MAC laptops, iMac, PC laptops, notebooks, and most desktops: Dell, Sony, IBM, HP, Compaq, Toshiba, Gateway, Averatec, Alienware, Fujitsu, Acer, Panasonic, Apple, and others. Typical laptop, notebook, MacBook and computer repairs include:
DC Power jack/plug replacement
Motherboard repair
LCD Screen replacement
Virus removal
Software installs
System recovery
Memory upgrades
Data Recovery
Hard drive replacements and upgrades
Wireless install and security
Blue screen repair
BIOS Upgrades
Broken USB repair
And more!
Note: The customer is responsible for any hardware and shipping expenses. Call (858) 864-3108 or (619) 584-4720 for assistance.
Service Hours
Pacific Beach
Monday – Friday 9:00 am – 6:00 pm
Saturday CLOSED
Sunday CLOSED
Normal Heights
Monday – Friday 9:00 am – 6:00 pm
Saturday CLOSED
Sunday  CLOSED
About us
SD Laptops offers fast, competitive and professional computer repair services in San Diego. Hundreds of satisfied customers agree.
E-Waste Recycling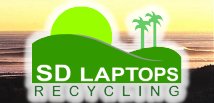 Proud sponsor of: